Sweet 16 left in the Great Christmas Song Search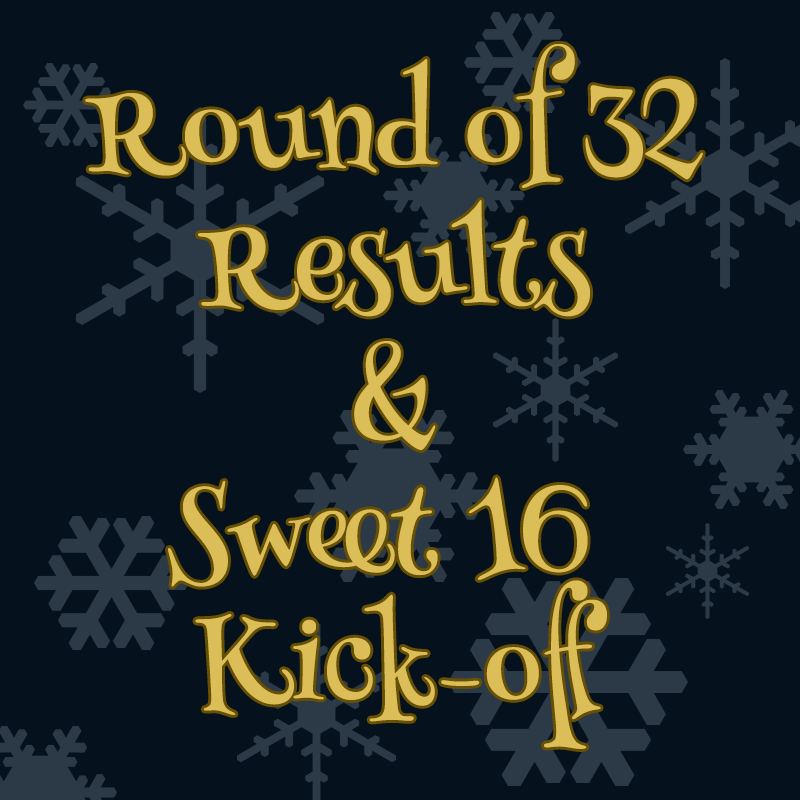 We're already down to the Sweet 16. What better time to think about cookies and sweets than this time of year. We need your help to get to the hated (or loved) Eggnog 8. Vote now at https://jasong.us/3E2LVcb.
Looking for the complete bracket? You can download it here.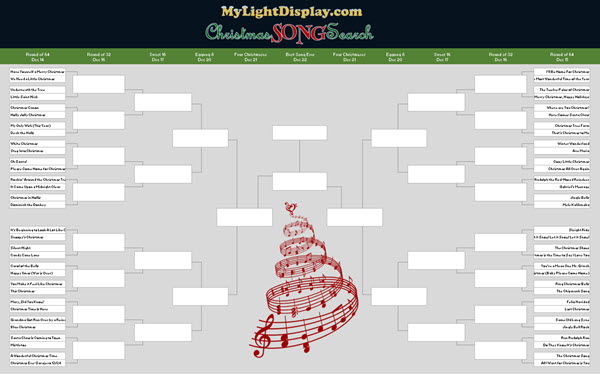 Round of 32 Results
Here are the results from yesterday's matchups:
Have Yourself a Merry Christmas by Frank Sinatra (Winner) vs Underneath the Tree by Kelly Clarkson
Holly Jolly Christmas by Burl Ives (Winner) vs My Only Wish (This Year) by Brittney Spears
Step Into Christmas by Elton John vs Please Come Home for Christmas by The Eagles (Winner)
Rockin' Around the Christmas Tree by Brenda Lee vs Christmas in Hollis by Run D.M.C. (Winner)
Snoopy's Christmas by The Royal Guardsmen (Winner) vs Candy Cane Lane by Sia
Happy Xmas (War is Over) by John Lennon (Winner) vs You Make it Feel Like Christmas by Gwen Stefani and Blake Shelton
Christmas Time is Here by Vince Guaraldi Trio (Winner) vs Grandma Got Run Over by a Reindeer by Elmo & Patsy
Santa Claus is Coming to Town by Bruce Springsteen (Winner) vs A Wonderful Christmas Time by Paul McCartney
The Most Wonderful Time of The Year by Johnny Mathis vs The Twelve Pains of Christmas by Bob Rivers (Winner)
Here Comes Santa Claus by Gene Autry (Winner) vs That's Christmas to Me by Pentatonix
Winter Wonderland by Tony Bennett (Winner) vs Christmas All Over Again by Tom Petty
Rudolph the Red-Nosed Reindeer by Gene Autry (Winner) vs Mele Kalikimaka by Jimmy Buffett
Let it Snow! Let it Snow! Let it Snow! By Dean Martin vs Christmas is the Time to Say I Love You by Billy Squier (Winner)
You're a Mean One Mr. Grinch by Thurl Ravencroft vs The Chipmunk Song by Alvin and the Chipmunks (Winner)
Feliz Navidad by Jose Feliciano vs Jingle Bell Rock by Bobby Helms (Winner)
Do They Know It's Christmas by Band Aid (Winner) vs All I Want for Christmas is You by Mariah Carey
If you want to view or submit comments you must accept the cookie consent.