Great "Christmas Song Search" Continues Tuesday
As mentioned earlier, we're holding the Great "Christmas Song Search" this year to choose which song you, the visitors of My Light Display, feel is the best Christmas song of all time.

We've already narrowed the field from 88 songs down to 64 songs after the first two introductory rounds. There were already a few popular songs eliminated such as John Mellencamp's "I saw Mommy Kissing Santa Claus", Jim Brickman's "Coming Home for Christmas", Ella Fitzgerald's "Baby It's Cold Outside", The Waitresses' "Christmas Wrapping", and the recent duet with John Legend and Stevie Wonder called "What Christmas Means to Me."
Below you'll find the updated bracket of 64. Beginning each contest day at 9am Eastern and ending each day at 10pm Eastern, we'll be opening up the polling for each round. The next round is the "Round of 64" which will span both Tuesday, December 14th and Wednesday, December 15th with 16 matchups each day. After the second week of the tournament, heading into Christmas week, we'll be down to the Sweet 16. Monday, December 20th will be the Eggnog 8 round, followed by the Four Christmases round on Tuesday, December 21st. Finally, taking place on Wednesday, December 22nd and Thursday, December 23rd will be the "Best Song Ever" round where we take the final four songs down to the "Best Song Ever".
You can follow the updated bracket here.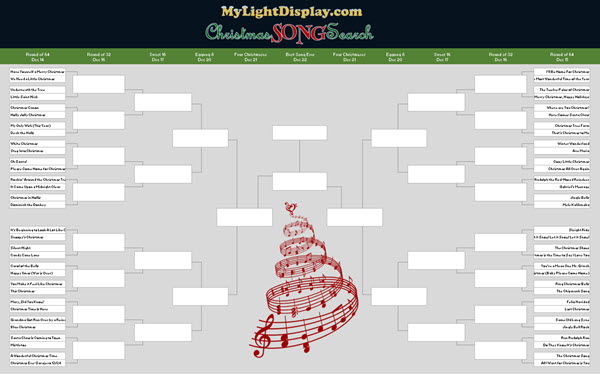 Thanks for playing along and we hope to see you stop by and visit My Light Display.
If you want to view or submit comments you must accept the cookie consent.